Costa Boys Wrestling Team competes at Varsity League Finals!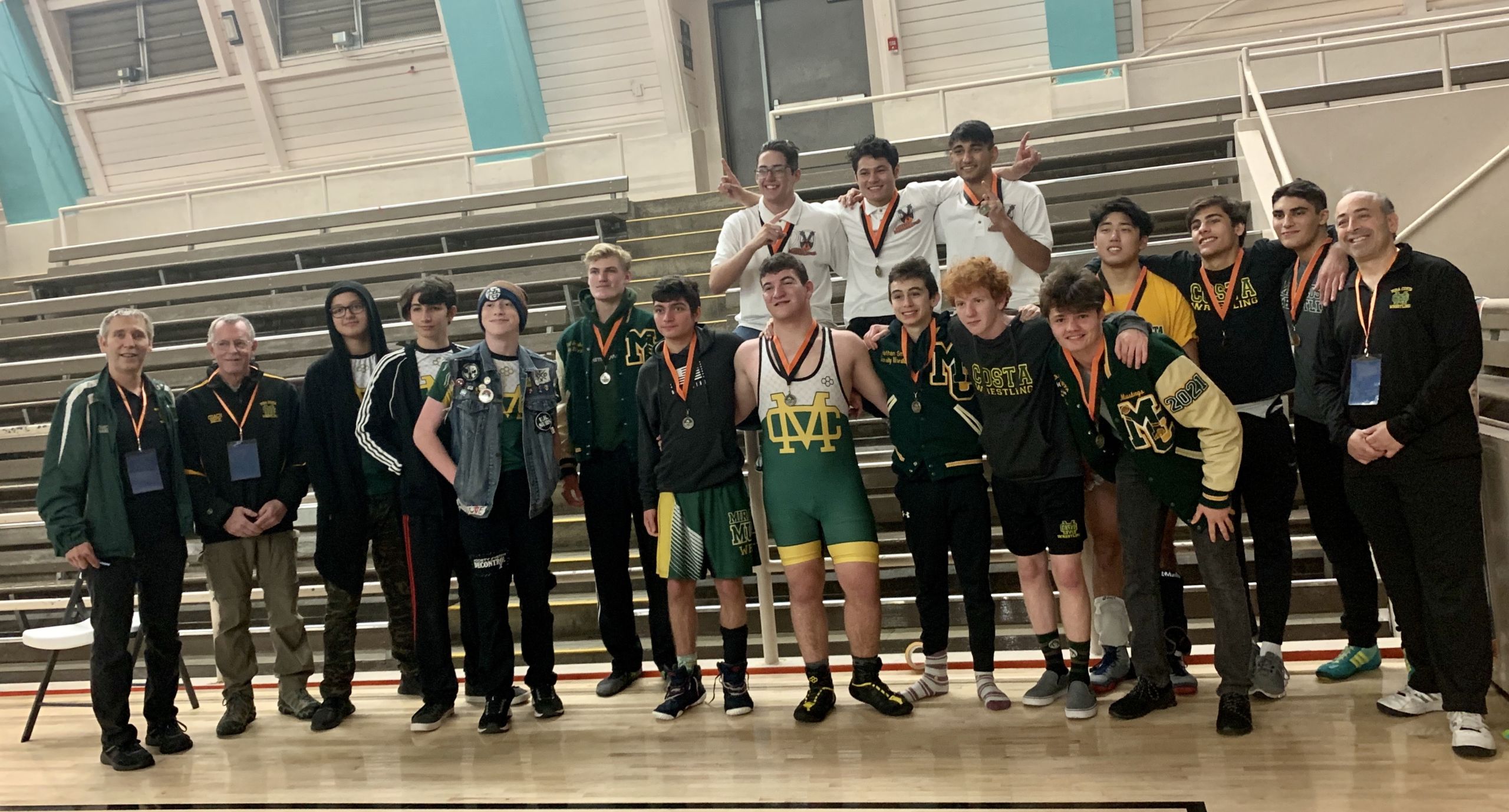 The Boys Wresting Team had a great weekend at the Varsity League Finals!
Costa had 11 wrestlers competing, and 10 qualified for CIF.
Congratulations to:
Andrew Chaney (Jr) – 138 lbs – League Champion
Greg Sevaston (Sr) – 152 lbs – League Champion
James Hennessey (Jr) – 195 lbs – League Champion
Nathan Smith (So) – 106 lbs – 2nd Place
Alex Virtue (So) – 120 lbs – 2nd Place
Reid Inskeep (Sr) 160 lbs – 2nd Place
Taro Iyadomi (Sr) 182 lbs – 2nd Place
Ben Ross (So) 220 lbs – 2nd Place
Carlton St Bernard (Sr) – 145 lbs – 3rd Place
Ismael Harati (Sr) – 170 lbs – 3rd Place
Costa also brought 8 JV wrestlers and 7 of them placed.
Congratulations to:
Sean Baxter – JV League Champ
Hunter Jeppson – JV League champ
Gannon Shea – 2nd Place
Eddie Martinez – 2nd Place
Tyler Stickney – 2nd Place
Diego DeCarlo – 3rd Place
Omar Bakhit – 3rd Place
Team Overview:  Here is an assessment on the year to this point.  Costa is in Division 4 for dual meets.  This year they focused on the individual tournaments, because the guys cut a lot of weight to put their best team out, which isn't always good unless it is a big tournament.  When everyone is in their best weight class, the team has three open spots (forfeits). This makes the team better, but it is enough of a set back with the forfeits that they cannot beat San Clemente Division 4 Champs, Beverly Hills Division 4 Runner ups and Royal in Division 4 and South Torrance Division 5 Champs.  Of the 150 schools in Division 4, 5 and 6, these are the only 4 teams that Costa cannot beat.  In league finals the team placed higher than Beverly Hills in 7 weight classes and they placed higher than Costa in 7 weight classes.  But, the forfeits give them the edge over Costa.  In saying that, last year there were 6 teams Costa couldn't beat.  So although the move off campus has made the team not able to fill the whole line up, the team is actually better.  Next year when they are back on campus, the coach will work to recruit more freshmen into wrestling so they can get the numbers back up for the years ahead.  Coach Chaney's goal was to be successful enough that they have to move Costa up to Division 3.  This is still a possibility, but it is doubtful that it will happen.  Coach Chaney hopes the new gym will assist in getting a good kid's program started.  All the top Division 1 schools have great kid's programs and most of those kids in those programs feed into the high school.  They have Freshmen who have already wrestled 6 years and have the technique of well trained juniors and seniors.  The only way to be on an even playing field with them is to get a well run kid's program at Mira Costa.  The team is doing great and are excited to see how well they can do next weekend at the CIF Individual tournament.  The Individual tournament will have a mixture of teams from all the divisions.