Swim and Dive
The Mira Costa Swim & Dive team practices as a Spring sport and has a rich history of outstanding athletes and impressive league wins. Led by Head Coaches Dave Halushka and Christina Paganelli and their experienced coaching staff, Costa Swim & Dive is consistently at the forefront of competition for the Bay League Title and places numerous athletes at CIF competition, where we are currently ranked D2.
Tryouts are usually held in December, with practices starting mid-February. Swim season starts at the beginning of March and culminates with CIF and State Championships in mid-May.* Due to Covid-19 and social distancing requirements, swim team will be a cut sport for the 2020-2021 season and will be comprised of Varsity and Junior Varsity squads. Both Varsity and Junior Varsity are competitive groups and athletes are expected to commit to their sport and attend meets outside of regular school hours, in addition to pre-season dryland training.
Swimming is both an individual and team sport. The swimmers compete and are scored as a team, but swimmers are still afforded the opportunity to focus on achieving their own personal best times and goals, as developed by their coaches.
Dive – If you wish to compete in diving, please contact our coaches. Diving practices and competition are held off-campus and more information can be provided upon request.
* CIF is currently determining their 2020-2021 competition schedules and season dates may be subject to change.
Swim and Dive is a Spring Sport.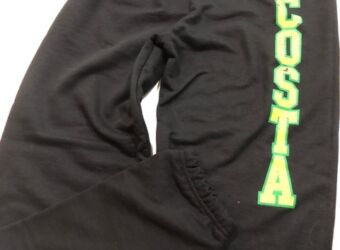 Purchase your custom 'Costa' Champion black sweatpants in sizes small, medium and large, jogger bottom! $40 each. Click here to order!
Simms Restaurants is pleased to partner with the MCHS Swim Team! In an effort to partner with our local community and help each other, Simms Restaurants is donating 15% of all online take-out orders place by Swim Team families back to the school! To place your order, click Here…
Keep reading
Show your Costa pride, while staying warm and cozy this winter.  Our soft flannel PJ pants are a must-have holiday gift!  Available in sizes S, M, L and XL. Click Here to purchase