Mira Costa Girls Continue to Impress!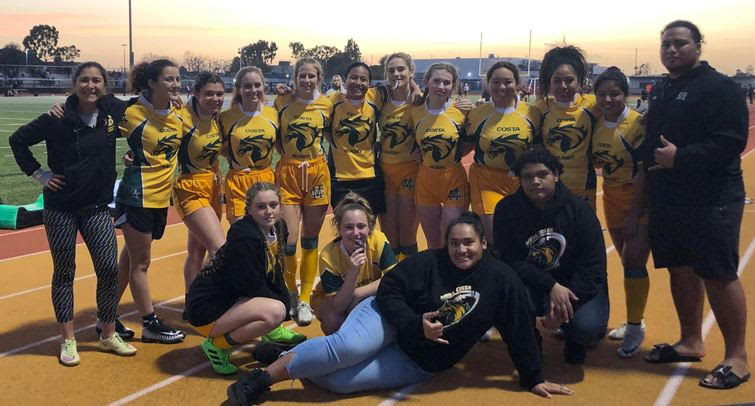 This past weekend the Mira Costa Girls Rugby team traveled to Los Alami­tos HS where they took on two of the top 7s teams in Los Angeles County.  The first match pitted the Mustangs against an extremely talented and experienced Carson HS side.  The Lady Ruggers played some tremendous defense holding the Colts to just one Try. The second half was more of the same as the Costa girls em­ployed a stifling defense. Senior Ashley Brownsberger was able to secure a loose ball and raced into the Try Zone to tie the match at 5 all. Unfortunately the con­version failed. Nevertheless a 5-5 tie was a huge step forward for the program!
The second match was against their friends and rivals from View Park HS. Despite giving up 15 points, the Mustangs used their speed and skills to come away with a 19-15 victory. It was Brownsberger again leading the scoring as well as Cece Morriss.  Morriss, a rookie, has been rapidly developing into a fantastic player. She is one of the hardest workers in the program and the extra time she puts into her training has paid off.
This Saturday the ladies travel to Lakewood HS at Marina Vista to take on the Lancers with their first match at 8:40 am.  Meanwhile, the Costa Boys travel to St. John Bosco for a 3 pm kickoff on Saturday as well.