Costa Ruggers Give No Cal Champions A Scare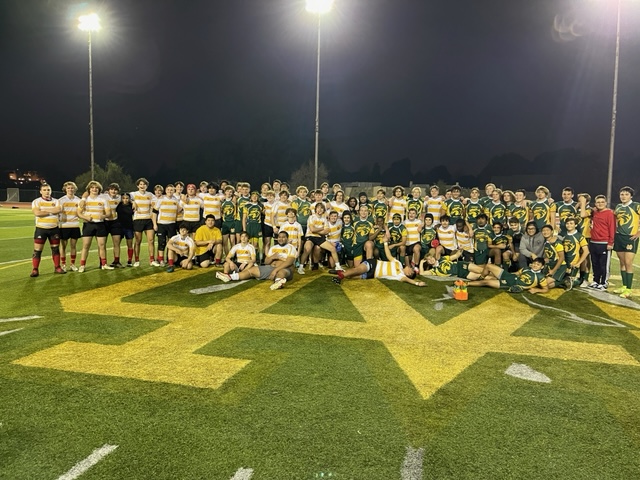 The Mira Costa Ruggers hosted the defending and perennial Northern California champions Friday night, January 14. Jesuit High School (Sacramento) visited Manhattan Beach and found a very game Mira Costa Rugby Team. The Costa boys got on the board early as their Forwards surprised the usually formidable Marauder Forward Pack by driving the ball deep into Jesuit territory. With the ball inside the 5 meter line Mustang Scrum half Nick Signorelli alertly picked the ball out of a ruck and dove in to put Costa on the board. Fly-half Van Graw added the conversion to give Costa a 7-0 lead.
After trading possessions Jesuit finally broke through with a nice run from 25 meters out bringing the score to 7-5. They followed that up with 32 meter run to go ahead 7-12. However, the Mustangs took possession and mounted a great offensive drive and with 4:32 left in the half Inside Center Ben Nicholson found pay dirt for Costa. It was the first career Try for Ben and gave him the right as in grand Rugby tradition to "shoot the boot" (meaning that he drank from his water filled shoe) after the match. Van Graw again hit the conversion to give the Mustangs a 14-12 half-time lead. Unfortunately, that would be the last of the scoring for the Costa Ruggers as the Marauders added 17 more points to make the final 14-29.
Saturday, January 22 the Mustangs (1-1) will be home again to host their league opener vs. Cathedral Catholic. The JV side will kickoff at 10 am and the Varsity at 11:30 am. In addition to the two matches it will be the annual Bibi's Breakfast. So come out and watch the Mustangs as you enjoy the breakfast!