Costa Rugby season comes to an end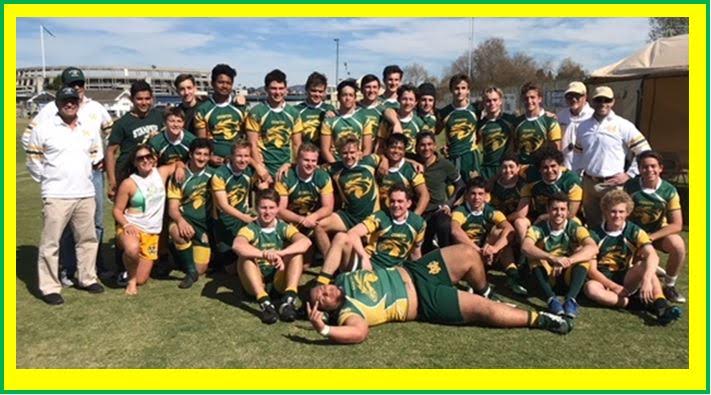 The Mira Costa Mustang Rugby team traveled to San Diego for a semi-final match against the #1 seed, St. Augustine Saints, at the Little Q in Qualcomm Stadium. The Saints were playing their first ever playoff match for the 9 year old program. Unfortunately for the Mus­tangs, the Saints came ready to play. St. Augustine played near flawless rugby throughout the match,  While they were far from dynamic, they were instead well coached and well disciplined. The combination proved to be a major force in their success as they found the Try Zone often.
The Saints took the kickoff and drove the ball deep into the Costa zone where they found a very physical and spirited Mustang defense.  The Costa boys repulsed numerous attempts to break though, until finally the Saints' Scrum Half John McVeigh managed to find a gap for the first score.  The conversion made it 0-7. Only 3 minutes later the Saints scored again from 3 me­ters out to push the score to 0-14. Six minutes after that, the Saints scored again to make it 0-19.  The two sides mixed physical play and the kicking game to a stalemate until Senior For­ward Captain Rob Fiene took a short pass from 8 meters out for the Mustang's score and a halftime score of 5-19.  The boys from Costa were in the match, but it was clear that the Saints were the more fit team on the pitch and the second half proved it as St. Augustine came out of the halftime and scored 3 quick Trys which put the match virtually out of reach. The Mustangs were able to score twice more.  Team Captain Jonah Tavai, playing on an extremely sprained ankle, using sheer will and determination bulled his way into the Try Zone from 8 meters out.  That was followed by a spectacular run from Back's Captain Kaden Loversky as he grounded the ball for points. The final score was 15-59 and all 15 of the Costa points came as a result of the play of their Senior Captains.
The loss ends the Costa regular season. Despite the defeat, it was another winning season for the Mustangs and the fifth consecutive year that the Mustang Ruggers have reached at least the semi-finals.
There is still more rugby to play for the Mustangs as they have some international matches and their 7s season (see below for dates and locations).
Upcoming Mustang Rugby
March 1&2, 2018:  Las Vegas International 7s
April 11, 2018: Toowoomba School (Australia)*
April 23, 2018:  Rangitoto College (New Zealand)*
April 24, 2018: Oakhill College (Australia)*
* = Costa Home Games (times to be announced)