Boys Lacrosse Finishes another great season with 8 players selected All Bay League.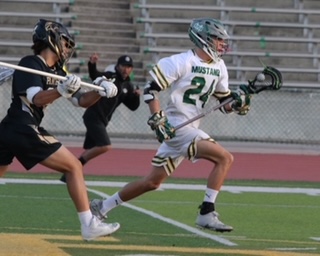 2022 ended in the 2nd round of the CIF Southern Section Division 1 playoffs for the Mira Costa Boys Lacrosse team, who put up an impressive 11 and 6 regular season record. The Mustangs beat St. Francis for a second time this season in the opening round of CIFSS playoffs and then travelled to Trabuco Hills HS, losing a hard fought battle in that contest. Costa had 8 players selected to the All Bay League including 1st Team Juniors; Sam and Diego Carpenter, Chris Tarnay, and Senior Davis Downes. 2nd Team Selections included Senior; Colin Shaw and Jack Storer, along with Junior Jack Fiorito, and Freshmen Michael Butler.
Team awards went to…
JV
Team MVP- Luke Arizpe
Offensive MVP- Nick Marsh
Defensive MVP- Zak Lachance
Horseshoe Award- Jacob Yakatan
Most Improved Player- Peter Cormack
Coaches Award- Roc Dillman
Varsity
Team MVP- Jack Storer
Offensive MVP- Diego Carpenter
Defensive MVP- Chris Tarnay
Horseshoe Award- Dylan Fenton
Most Improved Player- Trevor Flynn
Coaches Award- Davis Downes
Dave Vinci Legacy Award- Finn Disharoon
The team will keep rolling this summer with off season training through MBX and will pick back up again with the start of the Fall semester. Returning and Future interested Mustang Lacrosse players should check out www.MiraCostaLacrosse.com for all the info!