Ice Hockey
The Mira Costa Ice Hockey team is made up of Varsity & JV players who typically play on club teams that range from A to AAA. Mira Costa only allows students that attend Mira Costa to play for the team, although within the league other teams allow free agents, where players from other schools can play on a team.  Last year there were 15 Varsity teams in the league.
All games are played at Toyota Sports Center in El Segundo.
For the 2021 / 2022 season, the overall timeline is as follows:
Early November: Tryout and Parent Meeting to be announced
Mid November: Team roster announced, family donation ask
Early January: Athletes will register through TSC
Mid January: Athletes must complete all health forms
Late January through February: Conditioning and training begin
March – June 2021: Competitive season
Hockey is a Spring Sport.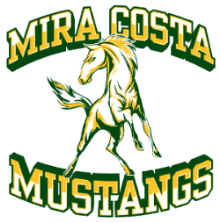 Click Here to purchase Costa Ice Hockey apparel.