Drama/Tech
The Mira Costa High School Drama/Tech Boosters is a group of parents and community members whose primary purpose is to support and encourage the education and associated activities of the Drama and Technical Theatre students and performing groups at Mira Costa High School. Our mission is to help create and foster a creative environment that provides opportunities in both acting and technical theater by supporting our actors, technicians, directors and administrators through fundraising and volunteer opportunities.
The Drama/Tech Boosters are proud to support one of the South Bay's finest and most comprehensive high school drama programs. Offering courses in both Drama and Technical Theatre, Mira Costa High School gives students the opportunity to be exposed to the dramatic arts in multiple forms and formats. In addition to the classroom offerings, Mira Costa High School produces three exceptional quality shows each year. Boasting multiple awards from the Jerry Herman High School Theatre Awards of Los Angeles, the John Raitt Awards for Youth, the Fullerton College High School Theatre Festival and the California Educational Theatre Association Festival, Mira Costa High School has developed a reputation for excellence.
Funds raised by the Drama/Tech Boosters are used to purchase theatre supplies (including props, tools and construction materials) and other items essential to the students' educational experience in the dramatic arts. The Boosters also provide partial financial support for a number of enrichment programs including Thespian Club, CETA Festival, Dessert Theatre, Fullerton Festival and Senior Scenes.
Upcoming 2022/23 Events:
1)  Drama/ Tech Kickoff – Saturday September 10th at Pollywog Park
2) Parent Booster/Fall Production Meeting Tuesday, September 20, 2022, 7pm
3) Hometown Fair- Volunteering October 1st and 2nd
4) Parent Party- October 15th
Dates, showtimes and tickets at MiraCostaDramaBoosters.org
Dates, showtimes and tickets at MiraCostaDramaBoosters.org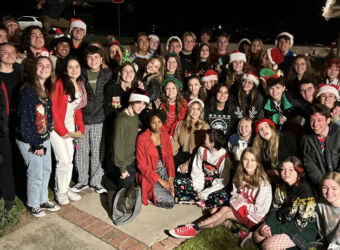 Drama/Tech students celebrated the holidays at their annual Progressive Dinner this past Saturday. They traveled house to house and shared food, fun, and holiday attire. Auditions for Mamma Mia – Audition packets are available with Mr. Westerberg in the Drama Room. Students must sign up by 3:30 pm on December…
Keep reading