Cross Country wrapped up their season with individual and team success at the State Meet in Fresno!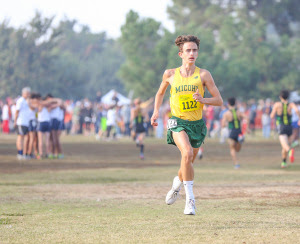 Xavier Court had the best finish for the Mira Costa boys Cross Country team.  He ran to a 15:19, 6th place finish in the boys Division 1 race! Way to go Xavier!  Full Boys Varsity race results HERE.
The girls raced to a 8th place team finish, placing better than they were ranked.  The team was led by Olivia Hacohen in 36th place in 18:45.  Lucy Atkinson was the 2nd scorer for Costa with a time of 18:55, Brooke Inouye next in 19:07, followed by Pnina Tofler in 19:37 and Serene Azafrani in 19:56.   Way to go girls!  Full Girls Varsity race results HERE.
Click here for The Beach Reporter article