Mira Costa Choirs 10K and Hometown Fair wrap-up!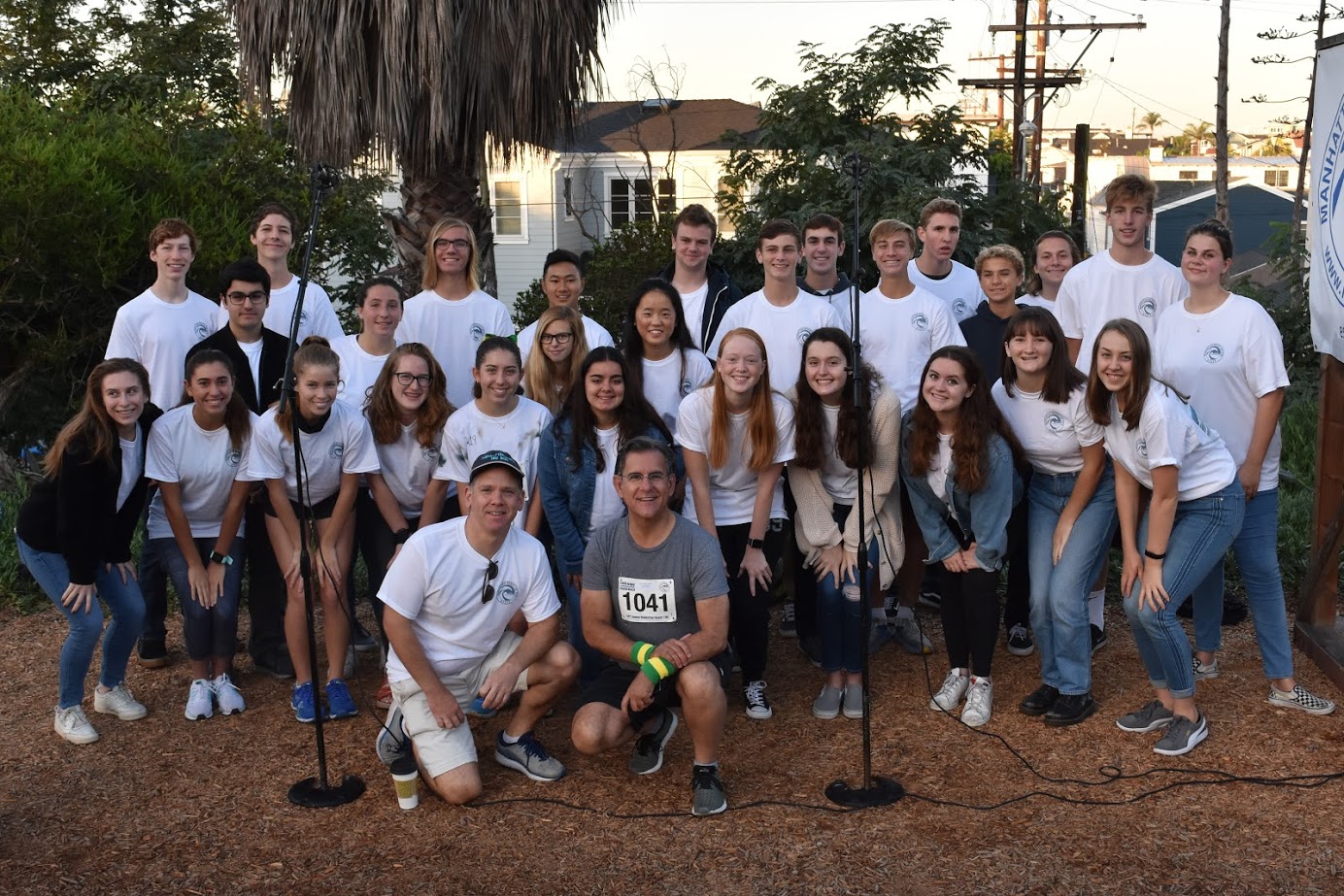 Mira Costa Choirs has done it again! In cooperation with the MB 10K Race Committee, they helped to put on another great run. All four of the choirs participated: Costa Chorale and Mustang Chorale members showed up early to set up and hand out water at both the 2-mile and the final water stations; Vocal Ensemble sang the National Anthem at the start of the race; and Choral Union worked hard on race clean-up. In addition, Mira Costa Choirs provided adult volunteers at all intersections managing traffic. Once again, everyone did an amazing job! The 10K Race Committee was thrilled with their participation and the jobs they did!
For the first year, Mr. Hayden, Director of Choirs, ran the race!  It had been a goal of his to participate in the race in his last year and so off he went accompanied by two students and a fellow teacher from Costa. To further add to the excitement, Mira Costa Choirs created a fund-raising page for Mr. Hayden. Pledges and donations were made and all funds raised by his run went to Mira Costa Choirs. A big thanks to all for their participation making this year's race one of the best ever!
As if Mira Costa Choirs weren't busy enough in the early morning hours helping at the 10K, they also hosted their first ever photo booth at the Hometown Fair!  The booth provided a fun backdrop, lots of props, and cameras to take instant souvenir pics.  Thank you to all students and parents who volunteered during the fair to make this such a fun event.  All proceeds went directly to Mira Costa Choirs.
Hall of Fame performance!
The eighth annual Mira Costa Hall of Fame was held on Friday, October 11th honoring six Mira Costa alumni. Again, this year the Mira Costa Choirs sang at the ceremony. For the first time, all four choirs joined together, surrounding the audience and delivering a beautiful rendition of our Alma Mater. Thanks to all the singers for their wonderful performance!
Choir parents have fun too! 
On Saturday, September 21, parents of Choir students gathered at the Gentille home for a wonderful evening of fellowship and fun!  This was a casual evening for the parents to socialize with one another and meet other parents of choir students.  Mr. Hayden, Director of Choirs, was also in attendance!  A huge thank-you to the Gentille family for opening their lovely home and providing all of the delicious food.  It was a wonderful evening!