Choir Students Lend Voices to Local Traditions, Student Leadership and more!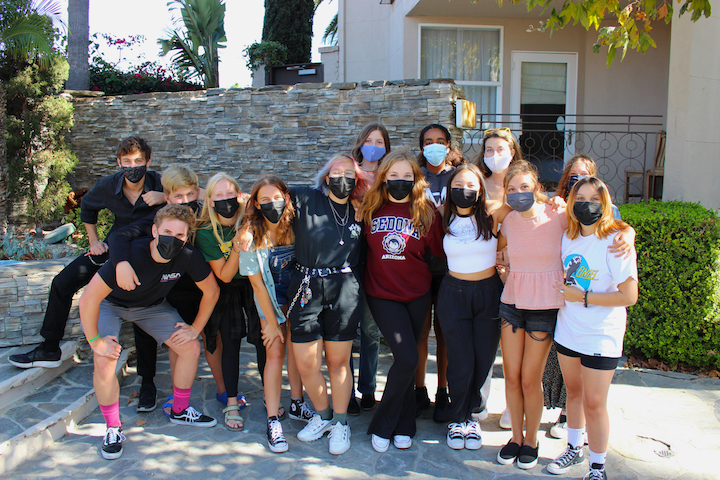 Students of both the Mira Costa Choirs and the MBMS Choirs have been in high demand as local traditions and time-honored events return to Manhattan Beach. On October 2nd, the high school choirs sang the National Anthem at the iconic MB 10K race. A few hours later, the middle school choirs sang the National Anthem at the much-anticipated Hometown Fair Opening Ceremony. These two performances mark just the beginning of a busy calendar of community events for all the choirs.  Congratulations to the students on their perfectly-pitched return to the community stage!
Student Leadership Announced
Congratulations to the 2021-22 Choir Student Leadership Team!
President- Kenzie Singiser
Community Chair – Kate Christensen
Vocal Ensemble VP- Ivy Shankle
Costa Chorale VP – Kate Christensen
Historians- Tessa Ahrens & Caroline Cryer
Librarians- Jaden Levin & Vanessa Steib
Mentorship Chair – Rachel Oh
Alumni Chair- Caroline Cryer
Coterie and Muscle A Cappella Groups Announce New Membership
Both student-run Mira Costa a cappella singing groups — Coterie and Muscle — have announced their membership for the 2021-22 school year. This year auditions for both groups were open to all Mira Costa students, and record numbers tried out. Congratulations to all the members of Coterie and Muscle!
Coterie:
Soprano 1: Ivy Shankle and Samantha Probst
Soprano 2: Rachel Oh and Alli Custer
Alto 1: Athea Reynolds and Ash Hanson
Alto 2: Kenzie Singiser, Kate Christensen and Caroline Cryer
Muscle:
Tenor 1: Vanessa Steib and Jaden Levin
Tenor 2: Alec Sabbe and Logan Rice
Bass 1: Kyle Tinker and William Kiely
Bass 2: Philip Garbot and Zachary Parsons
For those wishing to hear these talented students perform please come to Choir's Winter Concert on December 13th, and follow them on Instagram at @miracostamuscle and @coterieacappella.
Get Ready to ROCK YOUR SOCKS!
Just in time for the holidays, Choir will be selling fun socks in our new Rock Your Socks fundraiser! Each purchase will also help others have cozy feet because for each 3-pack sold, one pair will be donated. Sale will run from November 8-17, orders are sent directly to the purchaser and will arrive in time for the December holidays. Look for the Rock Your Socks flyer coming soon on our Instagram (@miracostachoir).