Catch up on Costa Choir accomplishments!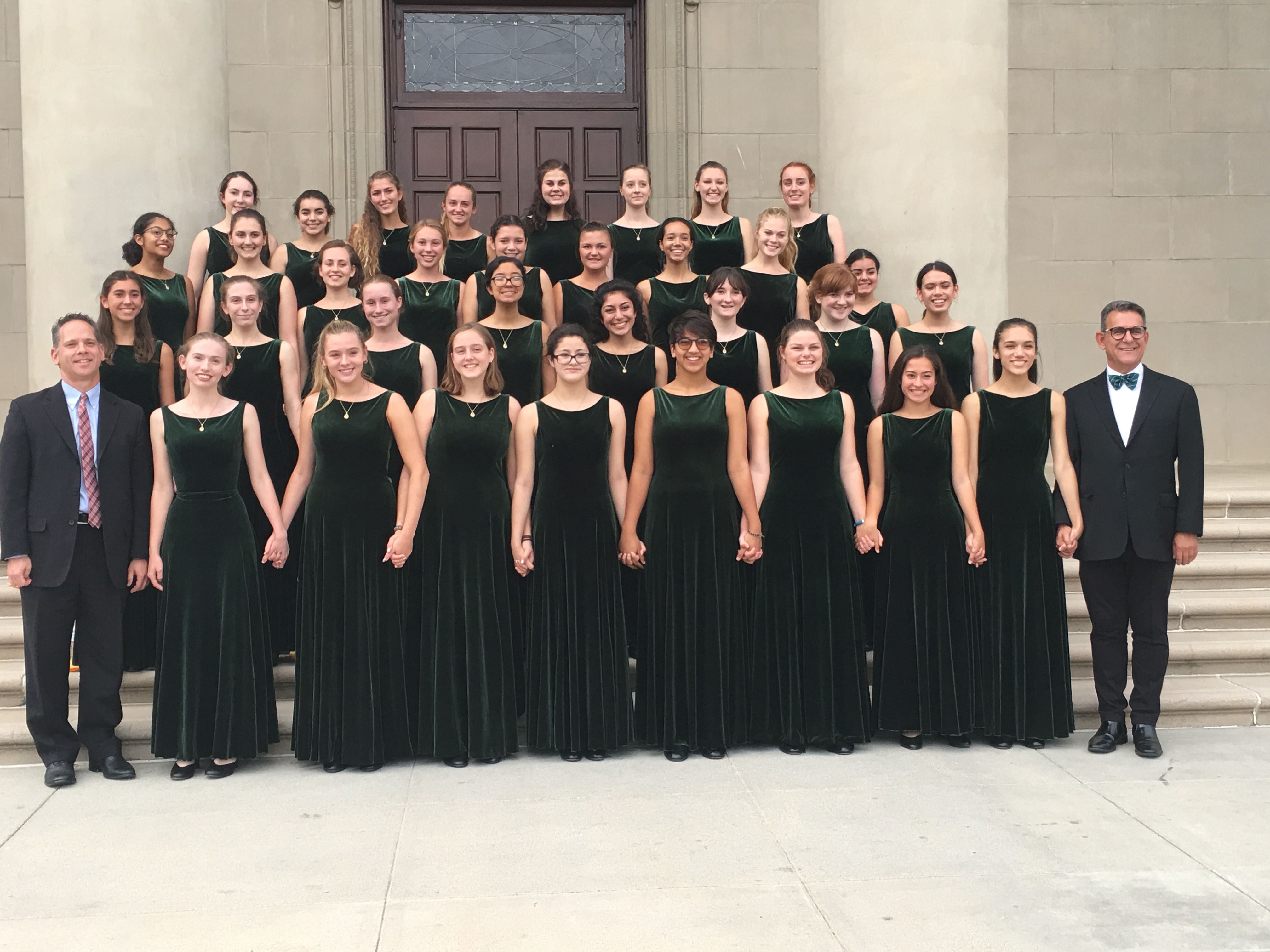 Vocal Ensemble performance at Biola University High School Festival
For the 11th year, Vocal Ensemble traveled to its annual Fall Festival this year, Biola University High School Festival on the Biola campus.  Some of the best Chamber Choirs from Southern California attend this festival to perform for each other and receive comments from an adjudicator. This year's adjudicator was Dr. Craig Arnold, Director of Choral Activities at Brigham Young University. The interesting piece this year was Mr. Hayden was serving on a jury in downtown Los Angeles and was unable to be present for the performance. With much discussion with his students and his colleague, Mr. Mark McCormick, all agreed the ensemble should definitely present their all a cappella program. The day of the festival and last on the program, it was announced that Mr. Hayden was on jury duty and the ensemble would be singing without their conductor. To great applause and anticipation, Vocal Ensemble presented their program. The performance was exceptional, and even as the smallest choir of the day, Dr. Arnold stated, "It was some of the best singing of the day."  Congratulations to Vocal Ensemble for performing so well and showing their peer choirs that you don't always need your conductor!  And a special thank you to Mr. McCormick for overseeing this unprecedented festival presentation.
Advanced Women's Chorale performance at Redlands High School Women's Choir Festival
For the 10th year, Advanced Women's Chorale performed at the Redlands High School Women's Choir Festival held on the University of Redlands campus. As always, the singers left early that morning, had lunch in San Bernardino, and then joined 12 other peer women's choirs from all over Southern California. With the festival beginning at 1:15 and then sitting for 2.5 hours, Advanced Women's Chorale was the last to perform. Their stylish and beautiful program impressed not only the 12 other women's choirs, but also the two university adjudicators. The adjudicator comments included how mature, rich, and beautiful they sounded on all three selections. Congratulations to the Advanced Women's Chorale for such a fine performance, for representing Mira Costa so well, and for bonding together for yet another great festival.
Vocal Ensemble performance at MB Pier Lighting
On November 15th, Vocal Ensemble joined the Madrigals from MBMS to perform at the Manhattan Beach Pier Lighting. This annual event kicks off the Holiday Retail Open House the same night and the holiday season. Singing traditional carols, Vocal Ensemble was the last to perform to kick off the Pier Lighting. With thousands in the streets listening, the choir sang beautifully and created a wonderful atmosphere for the lighting. Thanks to Manhattan Beach for this annual invitation.
Mira Costa Choirs on BlogTalk Radio
Mira Costa Choirs' upcoming winter concert will be featured on Blog Talk Radio's "The South Bay Show:  Manhattan Beach 360" on Friday morning, Dec. 8th, at 8:00 am.
Show hosts will interview choir director Michael Hayden and a few of the students who'll be singing at the concert.  Listen to the program live at 8:00 am on the 8th or at your leisure via podcast by clicking here: South Bay Show
Mira Costa Choirs Toy Drive
Donate a new, unwrapped toy, book or stuffed animal for a child under the age of 5. All gift donations go to the children of PATH Gramercy, a nonprofit organization dedicated to providing transitional housing and services to young single parents with babies, toddlers, and preschool aged children. Please drop off your donation in one of the collection boxes set up in the Mira Costa choir room, orchestra room, or the school front office. There also will be a collection box set up outside the Costa auditorium during the MCHS choir concert on Friday, Dec. 15th.
Because we know you have many opportunities to make worthwhile contributions and donations this time of year, please feel free to contribute to this toy drive only if it doesn't conflict with your other charitable commitments.  However, if you're looking for a worthy cause to support this holiday season, please consider donating a toy to this drive.  Your gift will help make the holidays a little brighter for a child in need.
Winter Concert – This Shining Night
This Shining Night is the annual winter concert for the Mira Costa Choirs. On Friday, December 15, at 7:00 pm, in the high school auditorium, this year's concert showcases our four curricular choirs and two after school a cappella groups. The evening is a mixture of classical and holiday music and also features the Seaside Chorale and Senior Wave Chorale from MBMS under the direction of Mrs. Heather Gold. Don't miss the wonderful night of choral singing. This is a great evening for all ages. There is no ticket price, just a suggested donation at the door. Come join us for This Shining Night.
A few cabins left!  Join the Mira Costa Choirs on Spring Break 2019 Europe Tour – Cruise on the Danube River
This is an amazing opportunity for Costa students, families, and friends to cruise on one of Amawaterway's newest ships, the Amalea, on tour along the Danube River from Budapest, Hungary to Vilsfhofen, Germany during Spring Break 2019.  Stops along the way will include Budapest, Vienna, Salzburg, and Melk. The Festival Choir, made up of Sophomores, Juniors, and Seniors, will sing in notable cathedrals, share a concert at the Melk Abbey with the high school choir, and will present a unique concert in Salzburg. This tour is not only for our students, but also for interested family, friends, and any community members who would like to travel with the Festival Choir on the 5-star ship, and there are just a few cabins left.  If you're interested in joining us for this once-in-a lifetime opportunity, please contact Michael Hayden  for more details.