CONGRATULATIONS TO THE MIRA COSTA CONCERT & JAZZ BANDS FOR WINNING THE PRESIDENT'S CUP!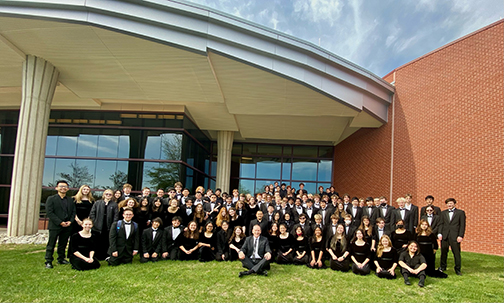 We had a trip to Washington DC planned for April of 2020 to participate in the National High School Concert Band Invitational. We had to cancel that trip but we did not give up. It might be two years later, but it was important to us to make this trip happen and we are so glad we did. We were in DC from April 19th-23rd visiting the National Mall, touring the Air & Space Museum in Chantilly, going to the National Harbor, and most importantly participating in the President's Cup Concert Band Festival. Our student musicians received clinics from some of the best active and retired military musicians in our country. After our festival performance, we were able to see a concert by The United States Army Field Band which was beyond impressive and the students loved it. To cap off a wonderful trip our own Mira Costa High School Band was awarded the President's Cup by Colonel Jim R. Keene. You can watch it here! You can see some of the performances here. Congratulations to the MCHS Bands Program!
COME CHECK OUT OUR FINAL CONCERT BEFORE THE END OF THE YEAR! 
Your last chance to see our award-winning musicians will be on Thursday, June 2nd in the Auditorium for our end-of-year POPS Concert. Check out our website www.miracostabands.com for more information.
MARCHING BAND & COLORGUARD TRAINING HAS STARTED FOR THE FALL OF 2022! 
We are so excited to have an amazing group of incoming musicians and performers who will be joining this award-winning team. But it is not too late to try it out! We will be having more Spring Clinics for Marching Band & Colorguard (anyone interested may attend) on May 13th, May 20th & May 21st then summer sessions begin Thursday, June 23rd. Check out our website www.miracostabands.com for more information.