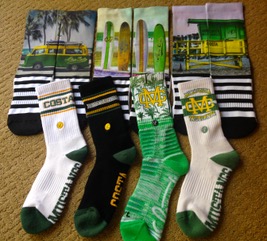 Get the Legends brand socks you love with Mira Costa designs. They are available in 7 customized styles:
Volkswagon Bus
Surfboards
Lifeguard Stand
Palm Trees
White Costa
Black Mustangs
White  MC Logo
Please designate which styles you want to order and their quantities in the comments box (i.e. 1 bus, 2 white).
Socks may now also be purchased from the student store on campus.
Benefits Mira Costa Wrestling.
Cost: $15 per pair