Support Orchestra with choice of fundraisers!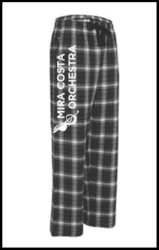 Stay Hydrated! This year we will again be selling H2GO Water Bottles for $30. Check out the fun new colors! All proceeds benefit the Orchestra Program. and their trip to Spain in 2019. The bottles are available for purchase at the student store as well as online HERE.   Get these new colors while they last! For any further questions, contact Janet Wyse.
New Spirit Wear!  Introducing PJ bottoms and long-sleeve t-shirts, in addition to the super-soft hoodies from last year (which are again offered in both dark gray pullover and green zippered options). The entire line of Orchestra clothing can be purchased online HERE, or turn in the completed order form in the Back-to-School packet to June Susilo by Friday, September 28th.  It's a great way to show off your orchestra pride and support the program. For any questions, contact June Susilo.
Luggage Tags
These Costa luggage tags are not just for Orchestra students, but all proceeds benefit the Orchestra program! Affordably priced at $5 each, or 3 tags for $10 while supplies last. They are great for instrument cases, sports bags, backpacks and travel luggage. Get your tags HERE.