Mustang Football outperforms El Segundo with 52-7 win!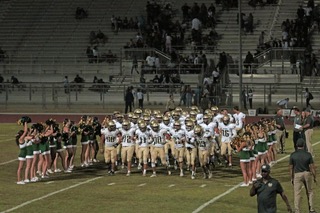 After an opening loss to Paramount, the Mustangs showed great improvement before dropping a nail biter to St. Francis then followed with a convincing 37-26 win over Mayfair. With momentum on their side, the Mustangs out performed El Segundo, crushing their opponent at their first home game with a 52-7 win. 
Please join the Tailgate party on Friday, September 20th before the West Torrance game.
The Mustangs are fired up! Come out and support Costa!
Paramount: 
Varsity: 21 / 48
JV: 43 / 38
Frosh: 34 / 16
St. Francis: 
Varsity: 21 / 23
JV: 42 / 20
Frosh: 6 / 28
Mayfair: 
Varsity: 37 / 26
JV: 41 / 26
Frosh: Bye
El Segundo:
Varsity: 52 / 7
JV: Bye
Frosh: 35 / 14