Drama finishes year with Senior Scenes, Banquet and final ComedySportz Match!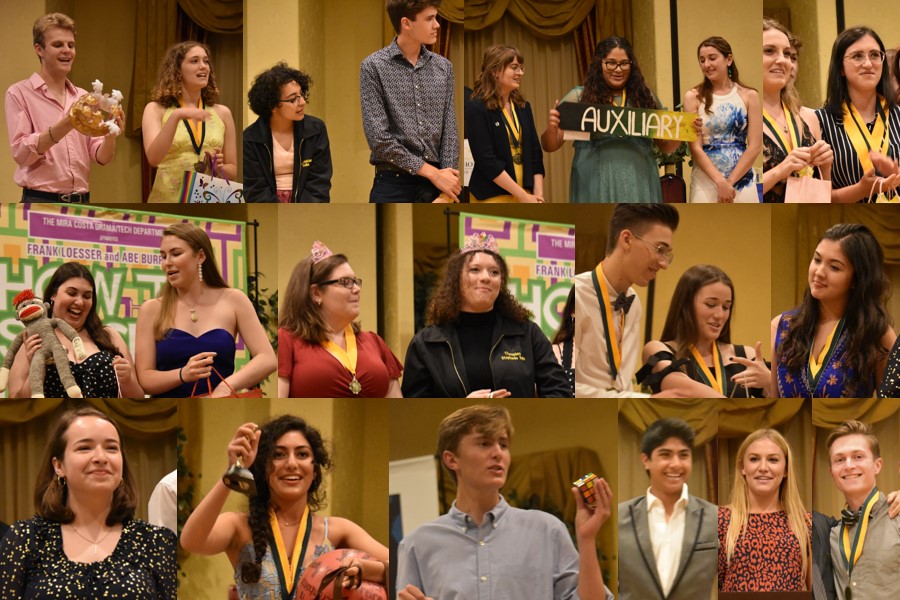 Senior Scenes
On Wednesday, May 30th, Mira Costa's Drama/Tech students presented Senior Scenes, a series of short scenes produced and directed by graduating 12th grade drama students. In the weeks leading up to the show, the seniors auditioned, cast, and directed fellow classmates in their scenes from plays and musicals as their final class project. Congratulations to the senior directors for putting together an amazing array of scenes, to the awesome student tech crew for their outstanding technical support, and to the tremendously talented student actors who brought Senior Scenes to life!
Drama/Tech Banquet
The Drama/Tech banquet was held on Wed., June 6th, at the Ayes Hotel Manhattan Beach/Hawthorne. Student awards were presented in various categories, including Thespian Honor and National Honor students, Thespian Scholars and new initiates, ComedySportz awards, scholarship awards, production awards, and class awards. Parent volunteers, production team, and staff also were recognized, and the new student Drama/Tech board for 2018-2019 was announced. Attendees enjoyed a fantastic meal and great camaraderie, celebrating the conclusion of a wonderful year.
ComedySportz News
On Friday, June 8th, Mira Costa's senior ComedySportz students competed against alumni in the last match of the school year. Students past and present brought laughter and fun to this exciting year-end event which was enjoyed by all. Final score: Seniors 32, Alumni 23
Looking forward to another great year of ComedySportz action in 2018-2019. Go ComedySportz Team Costa!